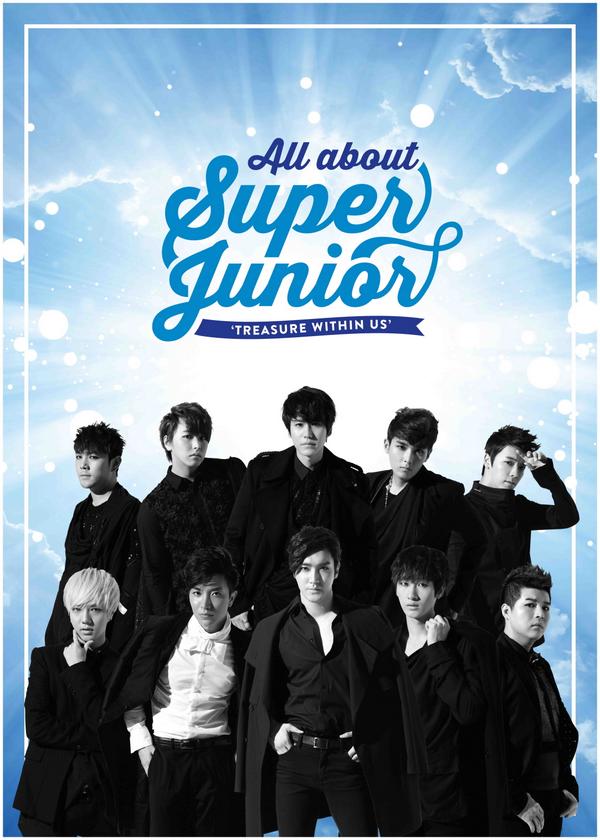 All About Super Junior TREASURE WITHIN US contains 6 DVDs totaling 378 minutes footage and special postcards. They will document the look of Super Junior since their debut.
Events include activities from debut to present, raw footage from various music video filmings, Super Show 4 behind the scenes, the 7th anniversary party with ELF, the stories at the SBS Inkigayo stage and other activities, scenes of enjoying a vacation at the city centre, live cooking competition, stories between members, etc.
The DVD was released on July 28 2014 while the DVD preview (photobook) was released prior to that on the 21st.
– Credit: http://sup3rjunior.com/ (edited by superzvicki)
Please support Super Junior by purchasing the DVD if you have the means to. ❤ 🙂
All About Super Junior DVD – English Subbed Videos:
**NEW** [FULL] AASJ DVD 1 (Eng Subs)
7th Anniversary Party (Eng Subs)
(1-4) Mafia Game (Eng Subs): Vimeo / VK Video
(2-2) Super Junior Ranking (Eng Subs): Vimeo / YouTube
(2-3) At Jakarta Hotel (Eng Subs): Vimeo / YouTube
(4-1) Twins MV Making & Debut (Eng Subs)
(4-13) Super Junior Happy – Cooking Cooking MV Making (Eng Subs): Vimeo / YouTube
Sorry Sorry Answer MV Making (Eng Subs)
Sexy, Free & Single MV Making (Eng Subs)
Super Junior Happy – Pajama Party MV Making (Eng Subs)
Joint Birthday Party (Eng Subs)
Super Junior M – 太完美 (Perfection) MV Making (Eng Subs)
AASJ DVD – Donghae Cuts (Eng Subs)
AASJ DVD – TVXQ Cut (Eng Subs)
**NEW** AASJ DVD – Eunhyuk Cuts (Eng Subs)
Credit: @Beyond_rea83, @Cyndi0220, haehyuk8693 @YouTube, Cathy Huang @YouTube, ecaismevy subs @YouTube, Mariz Castro @YouTube, Wing YeeDH @YouTube
Compiled and Shared by https://superzvicki.wordpress.com/
PLEASE TAKE OUT WITH FULL AND PROPER CREDITS. THANK YOU ^^
[RAW] All About Super Junior DVD – NO English Subs:
(3-1) AASJ Preview Photoshoot: Vimeo / YouTube
(YouTube Links) AASJ DVD 1 / AASJ DVD 2 / AASJ DVD 3 / AASJ DVD 4 / AASJ DVD 5 / AASJ DVD 6
(Tudou Links) AASJ DVD 1 (pw: xiyou) / AASJ DVD 2 / AASJ DVD 3 / AASJ DVD 4 / AASJ DVD 5 / AASJ DVD 6 (pw: helloxiyou)
(Youku Links) AASJ Part 1 (191min) / AASJ Part 2 (184min)
Credit: @Beyond_rea83, @kikiikyu, lovekyu haemin(YouTube), 在牆邊徘徊的蛋蛋蛋兒(Tudou), 桃子vicky(Youku), Mariz Castro(YouTube)
Compiled and Shared by https://superzvicki.wordpress.com/
PLEASE TAKE OUT WITH FULL AND PROPER CREDITS. THANK YOU ^^
All About Super Junior DVD Preview Photobook – Scans with English Translations:
Note: If you want to share this post with others, please just share the link of my post (https://superzvicki.wordpress.com/all-about-super-junior-dvd/) or link back to my post. If you really want to take any of the following information out, please include the full credits located above underneath the video links. I spent a lot of time finding and compiling the video links, so I'd really appreciate it if my work is shared respectfully. Thank you 🙂
Updated: 08/26/2014
13 Comments